Madonna Is Grateful For Tribe Of Kids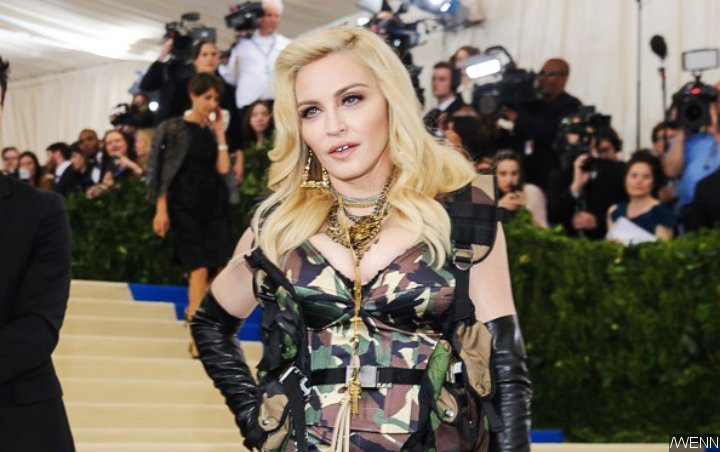 Celebrating The Holiday In Malawi, The 'Girl Gone Wild' Hitmaker Shares On Her Social Media Account A Photo Of Lourdes, Rocco And Her Four Adopted Children Posing Together In Front Of A Wall.
 Madonna marked America's Thanksgiving on Thursday, November 22, by sharing a rare snap of her children in Malawi.
The "Vogue" hitmaker shared a picture showing her daughter Lourdes, 22, son Rocco, 18, and adopted children David Banda, 13, and Mercy James, 12, and adopted twins Estere and Stelle, six, standing in front of a wall on her social media accounts on Thursday and wrote that she was most thankful for her family on America's holiday.
"What I am Most THANKFUL for! My Children have led me down roads and opened doors I never imagined I'd walk through (Heart emoji) Fame , Fortune and Records Broken could never equal that which I treasure and value most. (Praying hands emoji) #blessed #grateful #family Happy ThanksGiving from Malawi!" she posted.
In the snap, Lourdes is wearing a red minidress, David is in a smart suit, Rocco wears sunglasses and a blazer over more casual wear as he puts his arm around Mercy, in a white dress. The twins wear formal dresses with matching black cardigans.
Madonna has a deep connection to Malawi, having adopted four of her six children from the country, most recently her twins in February 2017. In 2006, she co-founded the non-profit organization Raising Malawi, which helps support orphans and vulnerable children, and her charitable efforts have included the opening of a children's hospital wing named The Mercy James Institute for Pediatric Surgery and Intensive Care at a facility in Blantyre in 2017. She also aims to open four new schools and a soccer academy in the African nation.
Madonna and her family relocated from the U.S. to Lisbon, Portugal in the summer of 2017 so David could pursue his dream of becoming a soccer star by attending the youth academy of famed Portuguese club Benfica.